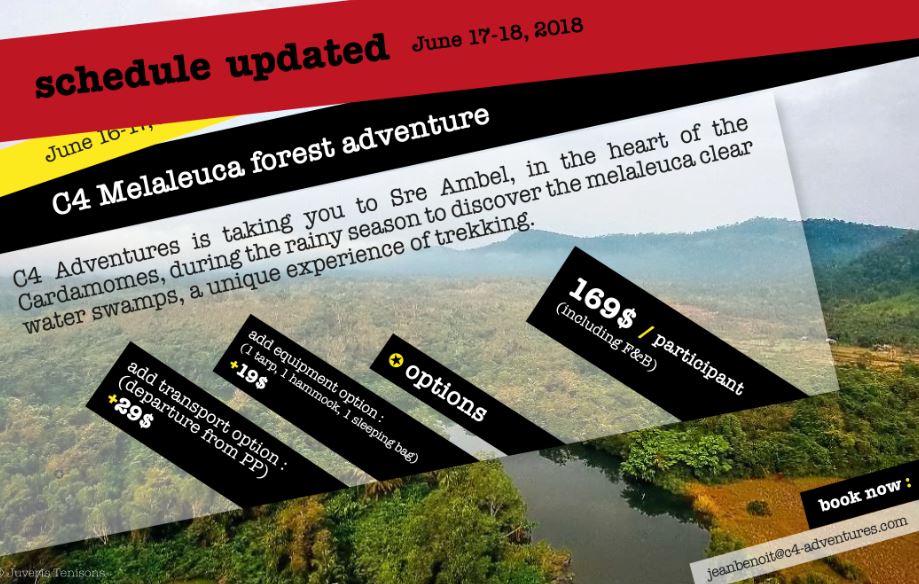 Event Description
C4 Adventures is taking you to Sre Ambel, in the heart of the Cardamomes, during the rainy season to discover the malaleuca clear water swamps, a unique experience of trekking.
Sunday
5.30AM: departure by minibus from C4 office: 12Ceo street 444, near Russian Market in Phnom Penh. (if you are not taking the ticket including transportation the meeting point is: https://www.google.com/maps/place/11%C2%B009'43.6%22N+103%C2%B046'00.7%22E/@11.1621111,103.7646724,17z/data=!3m1!4b1!4m5!3m4!1s0x0:0x0!8m2!3d11.162102!4d103.766854?hl=en)
7.30AM: quick breakfast at Picnic Resort.
8.30AM : arrival at Sre Ambel Organic Farm, equipment checking.
9AM: 3h of trekking in the middle of the Cardamomes valley.
12PM: arrival at the campsite, bivouac set up.
2PM : lunch
3PM: river swimming, fishing, snorkelling.
4PM : dinner preparations
6PM: dinner
Monday
7AM: breakfast
8.30AM: camp uninstallation
9.30AM: 3h trekking down to extraction point
11.30AM: extraction by C4 jungle boat
12PM: leap of faith (C4 special)
1PM : arrival to the minivan and departure.
1.30PM: lunch at Picnic resort
2.30PM : departure to Phnom Penh
5PM: arrival at C4 office in Phnom Penh (time of arrival could be affected by traffic).
Required equipment list
✪ in your bag (40L bag advised)
• C4 bivouac equipment (tarp, hammock, sleeping back) if you have selected this option,
• 3L of water with snacks (dried fruits, nuts ...)
• 1 dry bag
• 1 knife
• 1 pair of flip-flops, 1 short trousers, 1 long sleeves tee-shirt (to rest at camp)
• 1 headlamp or an electric lamp, 1 mosquito repellant, 1 toiletry set
• swimming clothes.
✪ with you
• trekking shoes or sport shoes
• 1 thick trousers or leggings
• 1 long sleeves tee-shirt or spentex top
• 1 long sleeve light jacket
• 1 pair of socks
• 1 hat.
Information
Sre Ambel
Srae Ambel
Srae Ambel
Cambodia