Audi International Jazz Festival Phnom Penh 2016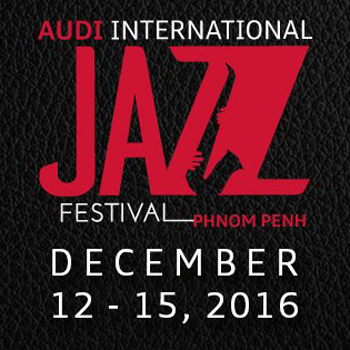 For the 2nd time Phnom Penh, Cambodia, lives to the rythm of jazz with the Audi International Jazz Festival.
Featuring local Cambodian talent and international stars from 3 Continents (Europe, America and Asia), the Audi International Jazz Festival showcases an ecletic mix of styles at great venues around Phnom Penh, promising a great journey in an armchair.
Program:
Dec 12 – Vladimir Cetkart Quartet, Audi Showroom
Dec 13 – Future Swing: Yutaka Shiina, JunJi Hirose and Yuji Ito, Hotel Raffles Le Royal
Dec 14 - Khmer jazz experiment: "When East meets West": Ma Champanha, Sophia Kao, Jimmy Kiss and Nikki Nikki, Black Box Theater, American International School.
Dec 15 – Sarah Lazarus quartet, a world class rewarded lady singer, Hotel Raffles Le Royal
Tickets available here:
http://www2.last2ticket.com/pt/events/100/audi-international-jazz-festival-phnom-penh
Tickets are available:
http://www2.last2ticket.com/pt/events/100/audi-international-jazz-festival-phnom-penh